19.12.2014 - Ausgabe: 6/2014
Open spaces as learning environments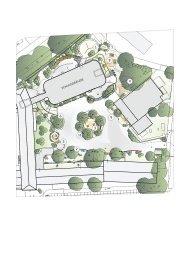 Traditional playgrounds and open spaces on preschool and school premises can be designed to create multiple opportunities to develop children's social, motor and cognitive skills. This is particularly important owing to the increased amount of time some children spend at full day schools and in order to facilitate greater inclusiveness among children. These skills can most successfully be acquired through independent exploration and action. Greater scope for movement and play in general results in a higher quality of life at school, more harmonious interactions, reduced vandalism and a decreased level of aggression. This forward-looking learning orientation enhances the value of leisure and recreational areas and demonstrates the extent to which we underestimate the formative power of physical space. As to whether children receive adequate impetus for development depends on whether open spaces and playgrounds on school premises meet the required pedagogical, motor and aesthetic requirement profile.
Regardless of the different rates at which children develop, one characteristic they share that allows them to successfully interact with one another is the joy they all derive from play and physical movement. An important goal is to boost the confidence of children with low morale and to allow them a physical experience of their own skills and abilities: I can swing, climb, and not lose my balance over a distance or pull myself up a slope and jump down again. Well-designed outdoor areas must offer a wide variety of possibilities to appeal to all children and motivate them to play and engage in sports just for the joy of it.
The schoolyard – a pedagogically significant learning environment
Schoolyards need to respond to the varying demands of children as they get older. For instance, when children transition from elementary school to the secondary levels, their interests are oriented toward a greater level of communication, aesthetic experience, and "chilling" activities. But as secondary schools often have younger children, they should not neglect to provide spaces that encourage movement and experimentation.
Described below is a schoolyard concept designed to have a near natural look as an example of how such requirements can be successfully incorporated within play areas of varied levels, in order to motivate schools to rethink the purpose of their unstructured tarmac surfaces.
You are taken to a mosaic snake or a "Mosaikschlange" ➁, which is a part of the school event and social art object. It can be used for balancing acts, to chill-out or to discuss and debate. The front yard was planted with diverse local groves, and the centre of the schoolyard was opened to create more green space with trees. Many play areas outside offer the space to rest and play in a way that promotes social integration in all age groups: for instance, the powerhouse (Kraftmeier) ➉ or the standing seesaw (Stehwippe) ➂, both of which accommodate several children at any given time. The standing seesaw is perfect for finding a sense of balance. And children can also run from one side to the other and in parallel understand how the lever works – outside the physics hour.
The interior schoolyard can be designed as a piazza with stage platforms to form a green classroom (Grünes Klassenzimmer) ➄. The underlying motto is to "learn amid, from and with nature"! This conceptual change to allow classes to take place in open space promotes the willingness to learn among young learners in that they are inspired to use all their sensory perceptions in the process of learning. However, such "green classrooms" should not be located in the vicinity of other classrooms. Only then can the learners work in an optimal and focussed manner.
Based on this schoolyard concept, a schoolyard, not too far from this outdoor classroom, was transformed to have a near-natural look and offered a wide range of play systems that demand physical activity. One interesting location on the playground is a jungle trail made of rods (Mikadodo) ➅ built around a tree. Balancing, climbing, risk and dare – Mikadodo offers a response to all these challenges. It becomes an interactive game particularly when several learners romp about in the jungle area: moving, dodging, coordinating – all that becomes necessary to remain at the top and to make progress. Driven by their own curiosity, children also always seek their own trails. There is no right or wrong. Mikadodo encourages the experience of stability and thus helps to improve the ability to coordinate. The slanted slip-proof wooden poles always shift the stress to different parts of the body and continually promote a sense of balance. Different stride lengths can be set for different age groups. Even standard games, such as ball games, are ideal for the break ➈. Irrespective of the type of ball game, football or basketball, increasingly even girls are interested in engaging in such sports as a way to burn off their energy. This is a perfect opportunity to promote equality and inclusion at the schoolyard during break sessions.
A contact swing for six children (Kontaktschaukel) ➃ was installed in the vicinity so that together children can gain momentum on the swing and test out ways to accelerate and decelerate in sitting and standing positions, forward and backward. At the same time, swinging releases tension even while paving the way for a different kind of tension – depending on the extent of one's own participation.
In the concept being described, a multiple levelled high bar "Stufenreck" ➆ and a slackline were installed. Slackline ➀ involves not just the act of balancing but also takes into account the movement and flexibility of the belt. This excellent sport became highly popular in the past years and must be included as a constant feature on all schoolyards. Particularly for children, Slackline is an ideal form of sport and exercise. Slacklining requires a sense of balance and promotes physical wellbeing as it also builds a greater body awareness. Slackline can also be used in pairs or in a threesome. The level of challenge increases with the number of participants. As it is difficult to find trees suitable for this purpose, it is better to use access boards to fasten the Slackline.

In addition to the many physical activities, it is equally important to include spaces for retreat (Rückzugsort) ➇ in the schoolyard, for instance a roofed area that also can be used as "green classroom". When integrated into diversified green spaces, almost all the sensory domains are activated. This improves the readiness to learn and the ability to communicate. A cave-like structure creates a basic sense of trust and protection trust and triggers the protection instincts; the visually traceable technical construct promotes curiosity and concentration. The low-level sitting platforms generate greater inclusiveness. The protective pitched roof can also be grassed, if so desired.
Play requires time
In order to use the outdoor space to its maximum potential, extended breaks at regular intervals are indispensable so that play and physical activity can generate quick recovery. Breaks under 20 minutes do not promote the use of open space.
All outdoors play equipment integrated into this schoolyard concept are manufactured by Wehrfritz using premium quality materials. They correspond to EN 1176, Part 1 through 7, and have been inspected by the corresponding regulatory agencies to secure the corresponding GS mark indicating product safety. The Wehrfritz product range extends from classic play equipment to customized play areas. The standard play equipment can be extended or changed as required. It is possible to subsequently exchange or add elements, such as a slide, a tower, or applications or entire play equipment. Thus sand pit areas can be extended to include climbing units. For more information: www.wehrfritz.de