FSB 2019: Convincing performance underlines unique position of a global sector meeting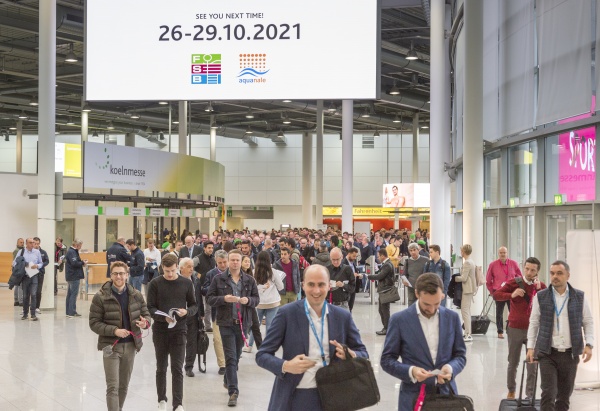 After four successful exhibition days in Cologne the FSB trade fair 2019 ended on 8 November. All the high expectations were topped and its unique position as the international Trade Fair for Amenity Areas, Sports and Pool Facilities has been impressively confirmed by its convincing performance. Once more FSB succeeded in sustaining the positive results of the previous show in 2017. Furthermore this year FSB managed to fulfil the pre-formulated ambitious goals of more internationality and quality in offer and demand. In addition, a considerably higher number of decision-makers from the architectural sector, municipalities, municipal planning and sports sector and German associations came to attend the show. "FSB has once more increased its already exceptionally high standard. With its future-oriented concept and by taking up all current headline topics, FSB has managed to bring even more sector experts to Cologne which clearly shows that FSB is the most important international communication and sector platform", says Division Manager of the Koelmesse, Matthias Pollman. Both FSB and aquanale - the International Trade Fair for Sauna, Pool and Ambience took place at the same time at the Koelnmesse. This year, aquanale has, for the first time, integrated exhibitors of the public swimming pool sector.
Almost 28,000 visitors from 128 countries were impressed by the innovation capacity of the 565 exhibiting companies from 43 countries. In comparison, in the year 2017 approximately 26,600 visitors came to the show with 634 exhibiting companies from 45 countries.
This year, the trade fair duo FSB and aquanale registered a vistor growth of 6 per cent. Also regarding internationality an increasing number of professional visitors could be registered. The foreign country share was 67 per cent (in 2017 it was 62 per cent). The most significant growth rate was registered particulary in the visitor numbers from Belgium (+22 per cent), Italy (+19 per cent) and Great Britain (+16 per cent). Regarding East Europe, a positive growth result of 37 per cent could be registered. From outside Europe a growth particularly from Central and South America (+46 per cent) as well as from Asia (+17 per cent) was registered.
In short, at the 2019 FSB Trade Fair all the market-leading companies from both Germany and abroad were represented on-site. The almost complete presence of national and international companies and suppliers of the synthetic turf market deserves particular mention. It is for this reason that FSB Cologne has become the "leading international" trade show for this market. The exhibitors especially praised the significant international growth and the high quality of visitors which has also been confirmed by the first results of the visitor survey according to which 87 per cent of the visitors are directly involved in procurement decision processes or at least in an advisory position. The visitors themselves, too, highly praised the event. Overall, 78 per cent of the participants expressed their satisfaction regarding their attendance. 80 per cent said that they had achieved their objectives regarding the 2019 FSB Trade Fair in Cologne. The wide-ranging product portfolio was rated as "very good" or "good" by more than 77 per cent of the participants.
FSB 2019 facts and figures:565 (634) companies from 43 (43) countries took part in this year's FSB Trade Fair at a gross exhibition surface of 60,600 sqm (65,000 sqm). 105 (146) exhibitors came from Germany, 460 (469) from abroad. Hence the foreign country share is approximately 81 (76) per cent. Approximately 28,000 (26,600) trade visitors from 128 (114) countries attended the trade fair duo aquanale and FSB. Hence the foreign country share is approximately 67 (62) per cent. *Some of the former FSB exhibitors have thus become exhibitors of the aquanale public swimming pool sector.


Exhibitor statements

Klaus-Peter Gust (SIK-Holzgestaltungs GmbH):
"The 2019 FSB Trade Fair was characterised by the fact that two thirds of the visitors were international contacts. We met nearly all our foreign partners and held very high-quality meetings and extensive discussions about our cooperation and ongoing projects. Furthermore we also made new contacts regarding potential future business connections with, for instance, Greece, Ireland, Hongkong and Malaysia.
It will be interesting to observe the resulting developments.
When comparing similar events of this kind with regard to the municipal perspective, the GalaBau Trade Fair in Nuremberg is the more interesting event. In Nuremberg there are more municipal planners and decision-makers. At the FSB Trade Fair we only met very few decision-makers mainly from North Rhine-Westphalia.
Unfortunately the presentation of the Deutscher SPIELRAUMPREIS (the German Award for Play Areas) was not properly noticed at the fair. Maybe because some of the projects are no longer relevant. Overall, we are very satisfied with the results of the trade show."
Frédéric Müller (Fritz Müller GmbH - Freizeiteinrichtungen und Spielgeräte):
"We are thoroughly satisfied with the results of this year's FSB Trade Fair. We had many contacts, also from the inner-German area. Some potential customers will probably cooperate with us. But this is not quite clear yet as we have only just begun to prepare and submit the relevant offers.
We find it very positive that this time the number of Asian exhibitors has decreased. Of course we accept the Far East competition at the show, but last time the quality of these exhibitors was rather at a minimum level, if at all.
The rush of visitors at our stand was very good this year. Even on Friday our exhibition stand was very well visited. It was only the start on Tuesday afternoon which was rather quiet. Although we were able to get an impression of our hall 7, there was no time left to have a look at the other exhibition halls due to the high level of participation."
Mario Hampel (ESF Emsland Spiel- und Freizeitgeräte GmbH & Co. KG):
"In summary, we can say that the show was very successful for us. Nearly all of our invited core customers visited our fair stand. So we could show them our new products and projects. The share of international visitors was very high. Thus our international department held numerous conversations with visitors from abroad.
Unfortunately there were not many municipal decision-makers. Another negative aspect was that some exhibitors dismounted their stands already 2 hours before the end of the show which was very disturbing because we were still engaged in customer meetings.
From an organisational point of view we find it no longer appropriate that parking fees have to be paid cash and cannot be paid by card."
Christoph Präbst (Kraiburg Relastec GmbH & Co. KG):
"For the Kraiburg Relastec company this year's FSB Trade Fair has generally been very successful. We were able to meet most of our important customers and realised that our partners have travelled a long way just to come to the FSB Show. For example, there were customers from the USA, Australia and Russia as well as from Thailand at the show which enabled us to invite them to our fair stand where we held many important discussions and negotiations.
These facts underline the significance of the FSB Trade Fair, which we still consider being the most important international trade fair for the play and sports sector.
However, we often heard from our customers that the distances between the halls are too long and that the exhibition spaces should be positioned closer together."
Carsten Obst (Zimmer.Obst GmbH):
"Designing individual play facilities" - In line with this topic, the Zimmer Obst company presented itself for the first time at the 2019 FSB Trade Fair in Cologne.
We are very happy to have participated in this year's FSB show in Cologne. There were many visitors on almost all four days of the show. We held many inspiring discussions with well-known faithful customers and also made some new interesting contacts. It was particularly noticeable that the share of international visitors was very high. Most of them came from East Europe and Asia. Whereas architects, municipal planners and decision-makers mainly came from North Rhine-Westphalia. However, we find that a few more national visitors should come to this show.
It was on Friday when the Deutscher Spielraumpreis was awarded. We were personally invited to the award ceremony, because some of the projects in which we were involved as creative play equipment designers had been nominated. At the end of the event we were disappointed, but not really surprised, that the judges once more refused to recognise the manufacturers of the individual play facilities although it is them who significantly contributed to the planning of the nominated projects. Regarding sustainability and the public consideration of this Award we find that in ceremonies everybody who has contributed to the project's success should receive the corresponding appreciation."
Ulrich Scheffler (Kaiser & Kühne Freizeitgeräte GmbH):
"Our presentation at the fair was focused on two huge play systems which attracted both national and international visitors. For us one of the most important results of this show is the expansion of our existing distribution network. Overall we are more than satisfied with the performance of the Koelnmesse and will definitely take part in the next show in 2021."
Julian Richter jun. (Richter Spielgeräte GmbH):
"Overall, the 2019 FSB Trade Fair was a very positive event for us. The cooperation with Stadt and Raum was as successful as always and the atmosphere was pleasantly relaxed. The visitor frequency on Wednesday and Thursday was surprisingly high. We have met many old friends, but also made some new contacts.
The strong international orientation of the show was clearly noticeable and it was surprising how many of our international partners and customers had come to the fair. Compared to previous years for us the 2019 FSB Trade Fair represented an increase in quality. I hope that this positive trend will continue over the next few years."
Daniel Mall (Eurotramp-Trampoline Kurt Hack GmbH):
"In general, the FSB show was a very successful exhibition for Eurotramp with many good well-known and new customer contacts. The German decision-makers were rather under-represented, but FSB always manages to be attractive for a high number of international visitors.
In addition, the lecture series organised by the different trade organisations completed the exhibition programme in a very efficient and qualitative way."
Andreas Kübler (Kübler Sport GmbH):
"FSB has always been and still continues to be an important sector meeting: As expected the number of professional visitors from Germany was manageable. However, FSB is an important exhibition date for Kübler Sport. We successfully presented the so-called Omnigym, our new outdoor fitness device series to an interested audience. So we will certainly continue to put our trust also in future FSB Trade Shows."
Jörg Birle (Proludic GmbH):
" In my opinion the 2019 FSB Trade Fair has repeatedly been very successful. The varied mixture of international visitors and local target audience has brought us a number of interesting talks and discussions with sustainable success. Indeed the most well-attended days were Wednesday and Thursday. As the saying goes, the days of the trade fair just "flew by". Breaks or a walk through the halls were unthinkable until Friday lunchtime. However, we were able to present our new product trends and innovative approaches to many municipal decision-makers. In addition we could intensify our existing international partnerships while at the same time we were able to make many new promising contacts. Due to the well-chosen customer-oriented fair stand concept we were able to present our company in a very authentic way. Overall we have perceived a higher number of visitors in hall 7 compared to the 2017 FSB Trade Fair."
Michael Karpe (Gezolan AG):
In view of the challenges posed by various current issues on the market, the 2019 FSB show was a successful trade fair for our company. Furthermore we had a really good time at the show. Our new fall protection system called Flexperience which is made of 100 per cent EPDM virgin material was introduced for the first time during the show and hit exactly the industry zeitgeist. Against the background of current debates regarding infill granules for synthetic turf pitches we definitely took the right decision to actively introduce the Gezofil product range at our stand.
However, we could not confirm the subjective impression that this year's FSB was less frequented than in previous years. Already on Tuesday, which usually is the most "quiet" first day of the show, we registered high visitor numbers at our stand. This number still increased on Wednesday and reached its peak on Thursday, the most frequented exhibition day. The response on the stand on Friday, in turn, was rather disappointing as we expected more visitors to come to see us on the last day of the event.
But instead we only met a few local and municipal decision-makers, planners and architects. From an organisational view the fact that the individual exhibition halls were far apart from each other could undoubtedly still be improved.
Overall, also the 2019 FSB show has turned out to be an important sector meeting event and was thus a successful exhibition for Gezolan. However, it will remain exciting to observe if the trade fair concept as such will also in future be still up-to-date and in what direction FSB will develop in the years to come."
Camilla Grebe (Spogg Sport Güter GmbH):
According to us, there were too few municipal decision-makers attending this year's FSB Trade Fair. But many decision-makers from abroad. Regarding the seminars, the wide diversity of subjects dealt with at FSB is convincing. However, the award ceremony for the Deutscher Spielraumpreis should be revised in a qualified manner.
In general we were very satisfied with the number of visitors coming to our stand during all days of the fair, except on Friday. On that day it was much less frequented than expected. From 12 o' clock onwards the number of visitors suddenly decreased."
Alper Us (Park Kent EU GmbH):
"50:50 - we are not fully satisfied with the visitor figures. There were enough potential decision-makers from abroad. But only very few national decision-makers. However, we find that the topics dealt with were generally interesting.
The helpfulness of the exhibition service staff was excellent.
But to be honest, I missed the trade fair organisers as well as the press at our stand which, in my opinion, does not represent a good marketing practice."
Jörn Schaefer (Spiel-Bau GmbH):
"This year's FSB was highly attended by participants and visitors from abroad. Regarding the German participation there were only very few visitors from the local areas present on-site. Most of the visitors were decision-makers, planners or foreign distributors. Unfortunately there were not many local exhibitors on-site - what a shame!
Maybe in future the Koelnmesse will take into account a catering offer similar to what is provided in the Netherlands (for instance in Hardenberg). That would be great! However, we will be back in two years!"
Wolfgang Keiner & Valentin Huck (Huck Seiltechnik GmbH):
"Since approximately 1986 we have been present at each FSB Trade Fair. Hence we looked forward to meeting our numerous and established customers. During the show we were able to present our new and exciting devices such as the Olive Tree, the Climbing Glasses and the Climbing Moon with its new fluorescent Hercules rope for special effects at diverse climbing facilities.
We are sad to say that there were considerably less representatives of the public sectors or decision-makers present on-site compared to previous years. At the same time we noticed that the number of exhibitors, particularly from German companies has declined, which is really worrying.
With regard to our product range, however, we were able to convince and gain many new customers and decision-makers from abroad. Overall we are satisfied with the result of this year's FSB and look forward to be back again in Cologne in 2021."
Jérôme Robin (Husson International S.A.) :
"The FSB Trade Fair was a successful event for Husson. 90-95 per cent of our stand visitors were foreign decision-makers and private investors. Municipal decision-makers both from Germany and other countries were rarely seen. Thus, we from Husson would appreciate very much an improvement of this situation. And three fair days would be more than sufficient. On Friday there were no more visitors in hall 9. But in general we were very satisfied with the results of the event."
Marcus Vellmanns (Tapper & Hollmann GmbH):
"Before the show we sent out more than 6,000 invitations to municipal decision-makers, landscape architects, schools and day care centres to meet as many visitors as possible during the FSB event. As always, it was on Wednesday and Thursday when most of the visitors came to the show. In sum we are very satisfied with more than 200 important customer contacts. However, I find that there were not enough national market players. They stayed away from the event. In my opinion it would be much better to bring all play equipment manufacturers into one hall. However, the quality of the show benefits from the Stadt und Raum area. Together with Mrs Hoff, a landscape architect from Essen, we provided our visitors with a talk about the topic "Inclusion". I find it very important to keep providing fresh impetus to make the FSB Trade Fair a unique and attractive business stage. After all, the FSB Trade Fair is predestined to represent a national and international meeting point for the latest developments of play spaces. However, it would be welcome to hold the numerous specialist lectures, for instance the P@L seminars, in hall 7, instead of organising them in separate halls. The FSB must, however, continue being a fixed event in our calendars. One thing we finally had to notice was the fact that it is not only many foreign play equipment manufacturers who copy the design of play facilities from our innovative partners, but also some German market players who are obviously rather uncreative. In this context, we would appreciate more courage regarding innovations."
Luigi Di Bella (Melos GmbH):
"At the 2019 FSB Trade Fair the company Melos GmbH presented innovative materials, innovative digital solutions for area design as well as 3D printing technologies. Melos' fair stand was visited by both municipal decision-makers and international guests. The special focus at their stand was on the so-called MoveNow and on Stylemaker Studio. Regarding the presentation of MoveNow, an interactive playing and learning area, FSB as the leading international trade fair in the sports and leisure industry was an optimal venue for that and Stylemaker Studio convinced as a digital tool particularly suited to support the design planning and processing phases. For the long-established company from the East-Westphalian city Melle FSB has always been and still continues to be the best event possible to present innovative solutions regarding sports and leisure floors in form of a complete value-added chain consisting of surface design, project-accompanying planning support and high-performance materials."
The next FSB Trade Fair will take place in Cologne from 26 to 29 October 2021.

For any further information, please visit www.fsb-cologne.de