Cultural asset or consumer good? - The playground as a marketing instrument
By Dr. Dieter Brinkmann und Prof. Dr. Rainer Hartmann, University of Applied Sciences of Bremen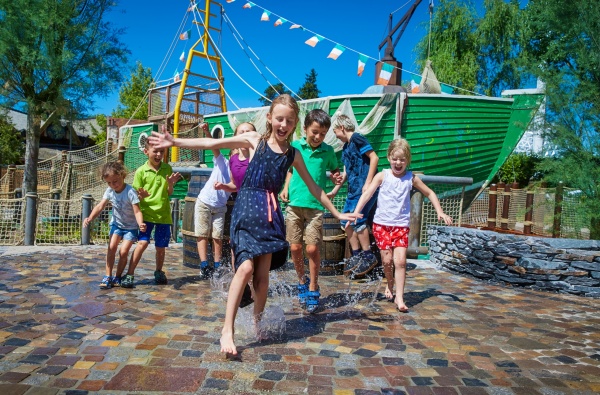 Playgrounds are a destination of early excursions and thus important spaces of childhood which enable the children to establish their first relationship to the public. Their importance for children and families becomes especially clear in times of the Corona crisis, when they seem to be out of reach. This also applies to all large thematic playgrounds, leisure and adventure parks, which are sorely missed by many people at the moment. The desire to return to these places to have fun, experience adventures, play and to explore the play area together with others will now grow steadily, in a time when everyone is thrown back on their own living room, kitchen or garden. The playground has always been an arena of childhood and thus a utopian place in the best sense of the word. It is therefore also relevant for the marketing of leisure facilities, companies and tourist locations as their main target groups include children and families. The authors assign these special spaces of childhood to theories of cultural sociology as playgrounds represent the yearning for special, quasi-singular places, leisure activities and entire life plans. In this context, the playground gains special importance as a unique attraction due to its own, perhaps even peculiar design. According to the first thesis of these considerations the playground of the late modernity is a central component for many leisure activities. In addition, according to the second thesis, the user and public-oriented design demands more attention today than in the past and turns away from a standardised furnishing of public areas.
Playgrounds: from modernity to postmodernism
It is especially the people of the academic middle class, a so-called "creative class", who are looking for special experiences for themselves and their children. Today, it is them who set the tone in many areas of social design. An ordinary playground in a residential area is by no means sufficient to satisfy their demands. Nor would it fulfil the educational aspirations of this social milieu for the development of their offspring. Gone are the days of standardised steel playground equipment from the old industrial society. In the sense of a diagnosis of the times, a clear turn towards individual spaces, towards a special, authentic experience can be observed here.
Already since the 1970s, this change has been taking place in all areas of society and includes an excessive leisure consumption. The change refers to the type of goods, the mode of production and thus the forms of work and organisation, the forms of consumption and the markets on which the goods are distributed. Digitisation as a core factor in today's transformation processes creates a further push for modernisation. The old model of industrial modernity also implied certain design formats for playground equipment and the associated game or play options: uniform playground equipment and exchangeable places, produced in an industrial mass production, recently in a globally standardised design, consumed by a relatively homogeneous middle class with corresponding demands on the standard of living and status effect of certain consumer worlds. These included standard markets where price and performance were the main factors, also regarding leisure activities.
Leisure facilities in an economy of the culturally special
When the first amusement parks opened at the beginning of the 1970s, an explosion of special features could be observed, which also became visible in the playground area. For example, the amusement park "Potts Park" developed an enormous appeal as a traffic theme park for children and adults. The "Europapark Rust" developed its special structure with country themes and the oldest amusement park in Germany, the "Erlebnispark Tripsdrill", provided a humorous and very special presentation of the regional cultural history of Swabian landscapes. From the perspective of cultural sociology, a new type of capitalism emerged, which also changed the way games were played and the view of play areas as such by providing a new frame of reference. "The post-industrial economy is centred around goods which primarily provide cultural qualities and a cultural value for consumers and at the same time claim to be unique (authenticity, originality, etc.). (Reckwitz 2017, p. 91). In this type of leisure industry, the emotional aspect is given much higher priority than it was in the industrial modern age. It is about the production of memories, about special events. Mediatisation and eventisation are shown here in their clearest form. Postmodern society is not only determined by services, but is also an "experience economy" (Pine & Gilmore 1999). Today, this cultural economy permeates society in an even more structure-building way and is also reflected in playgrounds and play equipment. The new consumer is a "co-creator" who assembles the cultural goods in his own way and thus appropriates them. So, the markets are transformed into singularity markets. There is an overproduction of ever new cultural goods with surprise value. This creates a kind of hyper-competition for the attention of consumers, an unpredictable competition for attention, appreciation and uniqueness. This particularly applies to a high degree to leisure facilities: they compete for the time and attention of an increasingly individual and pluralised audience. In terms of marketing, this also implies the constant adaptation of play offers to the needs of the respective target groups (cf. Hartmann 2018).
Playing in mental capitalism
In an "economy of attention" (Franck 1998), companies are willing to use any means to achieve this goal. Attention is the new "currency" in the mediatised knowledge society. People increasingly understand attention as a desirable and goal-oriented objective. This is especially true for the mobile generation of "digital natives" with their social media activities. Does a playground as an attention-getter or backdrop even make an impression here? Can a playground generate added value in terms of attention that will also benefit the shopping centre, the zoo or the city centre? Can a playground be something so special?
In the context of the very large theme parks, it is rather the monumental new roller coasters and the digitalised rides which strive for attention. They fascinate young people and adventurous adults. Perhaps the situation is different with the medium-sized and smaller, family-oriented amusement parks. Here, the aim is to attract and inspire the younger kids for the park. The same applies to the zoo or the animal park. Here, playgrounds are children's attractions by promising movement, collective participation and self-expression. Is the playground thus threatened to function as a compliant instrument of an excessive hyper-capitalism as is the case in other contexts of the leisure and cultural industries? Are playgrounds, like sports and cultural events or party formats, becoming platforms for commodity-oriented communication in ever more areas of the world? Or is there a kind of resistance, a lightness of play, especially in the play areas?
Playing as a cultural and/or consumer good
From a sociological perspective, play can be understood as a basic flow of culture (cf. Huizinga 1958). An expansion of game possibilities would therefore be a culturalisation of spaces of a different kind. But can "Homo Ludens", the person who plays, and "Homo Consumens", the consuming person, get along in the long run? Since the Age of Enlightenment at the latest, the playful appropriation of the world has been attributed enormous development potential. Corresponding concepts have risen to the core area of the bourgeois educational ideal. Even the most rudimentary over-regulated play areas subject to building law have some of this potential, and all the more, anarchic or dynamic play zones such as construction playgrounds or adventure parks (cf. Hasse 2019). Playing unfolds a logic of its own, which resists complete appropriation. The commercial use of playgrounds and equipment, in the sense of game-oriented marketing, would rather contradict this idea. In a negative sense this could be understood as an instrumentalisation of playing.
In contrast to an encroaching and all-pervasive rationalisation and marketing of life areas, the potential for a "re-enchantment of the world" (Haberl 2016) slumbers in the playground concept - quite contrary to an increasingly well planned, completely secured and generally boring society. But how do we get such special, singularised products that enchant our world? Unlike the functional products of industrial modernity, which will certainly continue to exist, the new goods of the postmodern economy have a strongly emotionalised practical value. They can also be called "affective goods" (Reckwitz 2017): they promise joy, excitement, self-enrichment or the feeling of doing something meaningful. For playgrounds this means that they should still be functional, by offering, for instance, a high standard of safety while at the same time satisfying elementary needs for physical challenges. But they also represent cultural goods that promise emotional experiences, for example a collective experience with other children or an emotional-physical challenge. But what opportunities do these theoretical insights into the singularised economy offer for the use of playgrounds and playground equipment in the course of marketing?
Cultural goods have narrative, aesthetic, creative, ethical and/or playful qualities that are important for the recipient, and they thus establish a certain cultural practice (cf. Reckwitz 2017). In relation to the playground as a "cultural asset", stories in the sense of "storytelling" are required. This is a familiar approach for leisure park operators and equipment manufacturers. A good story about the play area is becoming increasingly important and makes the facility unique and distinguishable from other options - an important marketing objective. But it is also a carrier for individual stories about experiences in leisure contexts and the memory of places, events and actors. The ethical value of playgrounds could be associated with integrated learning opportunities. Topics are explored, small learning tasks are mastered or exciting comparisons are made in a playful way. The feeling of doing something good for children is generally present in almost all movement-oriented leisure activities, if one thinks of the little "couch potatoes" (digitalisation, nutrition and overweight problems). In the sense of an aesthetic-sensual quality, play offers should stimulate the sensory perception and convey visual, auditory, tactile or olfactory stimuli. The design dimension of the playground also offers the recipients a framework for actively shaping their own lifestyle. It has an activating character and offers individual development opportunities which help to develop emotional structures or other abilities. Finally, the play quality of playground equipment must also be taken into account: Elements of playfulness are per se parts of the culture, whether in active or passive variants (as actors and as spectators). Games typically have an open course and thus an uncertain end. This is what makes them exciting (cf. Caillois 1958). Playgrounds and games are thus core elements of a new economy of late modernity. This is also reflected in the attention paid to computer games, sporting events or the most diverse variants of edutainment. A playground that is just like many others cannot inspire enthusiasm and will therefore not be effective in the context of marketing or brand communication. The same applies to a leisure park or a zoo as a whole. Only by providing a certain narrative, aesthetic, playful and creative density play offerings will stand out from the masses and thus acquire a special "intrinsic complexity". However, this does not yet answer the ethical question of whether it is "good" to instrumentalise playing in connection with marketing. Would that already count as manipulation? That certainly depends on the point of view of the respective viewer and the way the play/playground is integrated into corresponding campaigns.
In any case, marketing has now also taken on a playful character, with producers and consumers - often referred to as prosumers in this context - working together in co-creation processes to "tinker about" with products and playfully find new solutions for their design. This approach can be transferred very well to children's play spaces and experiences and is already being applied in this context by designing playgrounds in public and private environments together with children. An "active playground" that does not contain any equipment that might tempt children to be passive, but offers a story and invites them to explore openly, could also be possible. In an increasingly digitalised world, playgrounds have the potential to offer "utopian counter-worlds" (Foucault 1992). Developing and highlighting the special features of these worlds is a task for planners, operators and marketing experts.