12.06.2012 - Ausgabe: 3/2012
Sport facility or independent exercising location?
By Renate Zeumer und Mansour Nader (Playfit GmbH)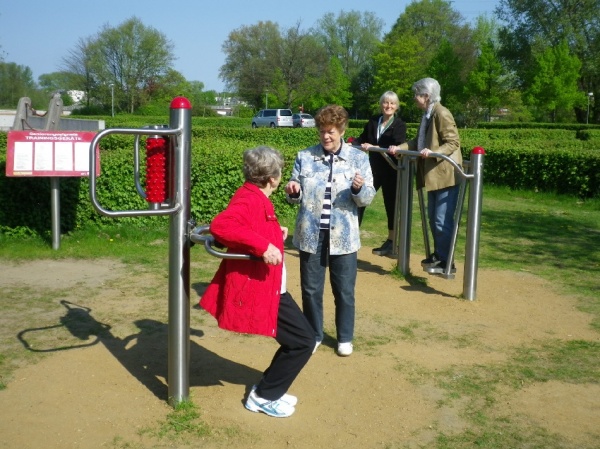 Unfortunately, it often happens that despite the lack of practical experience in this field, personal opinions or intentions are often presented as "the truth", without having being necessarily proved right in practice.
 Many sport functionaries see this exercise trend as an opportunity to attract people to join a sports clubs, as occurred in the 1970's with the German "Trimm-Dich-Pfad" idea of fitness trails. Basically, this hope is not unfounded as someone who feels healthier and better after using outdoor exercise equipment may well want to build on this by joining a sports club. Some functionaries, however, go so far as to claim that gym trails of this kind are only effective and will only work within the framework of organized sports facilities in general.
 Some individual landscape architects, having planned one or more intergenerational sport courses in the past, present their very personal and not necessarily up-to-date opinion on other kinds of exercise concepts. For example, one landscape architect went as far as to put down types of exercise equipment not used in his own planning projects with increasing fervour and from the point of view of an exercise or physiotherapist and based solely on his own personal opinion. This is not helpful and will only confuse other planners and decision makers.
Outdoor trim trails in many different forms are sprouting from the ground like mushrooms all over Europe. Many work very well, others less so or not at all. There is no patent plan for the construction and running of an exercise course and it has not yet been possible to gain long-term experience.
But now a further dimension has appeared: The inclusion of this kind of exercise courses within sport clubs.
The idea that sport clubs view the organised use of exercise courses as an addition to their range of activities is, of course, perfectly legitimate. Setting up an "open-air fitness studio" as a new sports location where stamina, strength and coordination can be trained on fitness equipment is definitely an attractive opportunity for sports fans.
But freely accessible trim trails also reflect a different philosophy which should not be ignored. The idea is to provide people with a non-committal, freely accessible, easy and uncomplicated opportunity to do exercises which can be used not only in an organised way but also individually or even in passing and in any kind of clothing. This kind of exercise course is intended for people not necessarily inclined to do any kind of sporting activity or older people who may never have taken part in organised sport activities and possibly may never wish to do so. It is about providing a location for doing unconventional exercises and creating a venue for intergenerational networking. Experience has shown that both operators and users are often prepared to take part in regular, weekly training schedules and to organise these in a professional way.
As a manufacturer of fitness equipment with more than 450 locations at which our equipment has been installed, we do not recommend that fitness trails of this kind should only be set up within the framework of sports clubs in order to make them work.
 Often decision-makers may actually favour particular sites in a park-like environment as an attractive location for exercise and intergenerational communication – similar to the village square of former times. It may not actually be desirable to integrate the fitness trail into a functional sports facility especially as the important focus group of persons who are not interested in joining clubs or doing sports may be marginalised and consequently become more difficult to motivate
 With all due respect, sports clubs are not always popular in many communities as venues for this kind of freely available exercising facility. We know of cases where independent, professional initiatives from outside the sports club structure have been blocked completely, even when users supported the idea of "independent" trainers.
 Club structures usually involve costs for users – a fact which contradicts the successful philosophy of fitness trails being made available for everyone free-of-charge. In addition, there are also functioning, comparable exercise offers available on a voluntary basis.
Conclusion
In the still relatively unclear situation as is currently the case individual personal opinions which are presented as patent solutions for trim trails are of no help at all. The desire to avoid making mistakes, is understandable but the basis for all planning work should include taking into consideration local circumstances, socio-economic constraints and any already existing basic concepts, which may already have been planned - often with a great deal of commitment at the local level.
Without question, sports club activities fulfil a very valuable and important function within the framework of promoting exercising activity in general and it is not intended here to question this excellent work in any way. The possible integration of exercise courses into sports club structures should not, however, be allowed to restrict, or even prevent, other kinds of worthwhile projects.
Sport facility or independent exercising venue: this is the basic question which all decision-maker