12.06.2012 - Ausgabe: 3/2012
Community constable significantly reduces anti-social behaviour through play projects
One year after installing an innovative POD youth shelter on his Ferrybridge ward to combat anti-social behaviour, PC Charlie Banks has officially opened a multi-use games area (MUGA) on the Warwick Estate that he hopes will have an even greater impact on the area.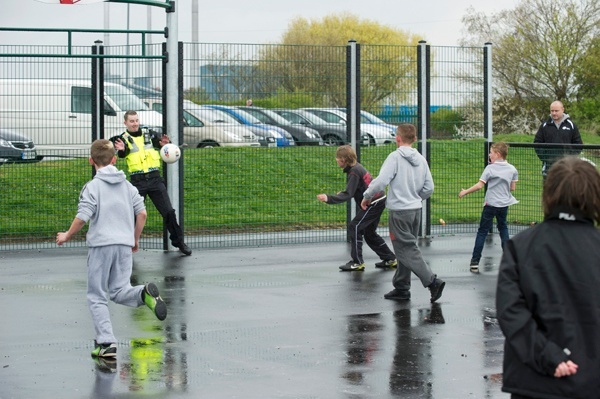 PC Banks started the project in 2008 and formed the Knottingley Community Project Partnership in 2010 which is a group of companies, including play experts Sutcliffe Play, Wakefield and District Housing (WDH) and Knottingley based Ardagh Group, that works in partnership with West Yorkshire Police and Wakefield Council to combat anti-social behaviour in the area. To date over £50,000 has been donated by companies to fund play projects.
PC Banks comments: "The POD shelter we installed on the Ferrybridge estate in May 2011 has had a phenomenal impact on the area and has contributed to a 60% reduction in anti-social behaviour calls. I've been a community officer for 26 years so I know that simple but effective community projects can significantly reduce crime and anti-social behaviour, but I never imagined it would have such an amazing and sustained positive impact on the area. Both children and local residents have embraced it for the good of the community."
Yvette Cooper MP said: "The work by PC Charlie Banks and the Knottingley Community Project Partnership to get local businesses to provide these facilities is brilliant. It just shows how good neighbourhood policing is about preventing crime as well as catching criminals. The police told me that anti-social behaviour calls in the area have more than halved since they've given young people somewhere to go. That's good for young people, but good for the rest of the community too."
Father Edward, vicar of St Andrew's Church, Ferrybridge, said: "I was very surprised when the idea for a play shelter on Ferrybridge Park came up. But the reality is that it gives children somewhere to go, somewhere to call their own, where they are safe and aren't at threat of being shouted at or told to move on. It avoids the inter-generational conflict and has been a fantastic addition to the community." And paying tribute to PC Banks and his Neighbourhood Police team, Father Edward added: "My personal opinion is that Charlie Banks and his team have done an absolutely magnificent job in and around Ferrybridge. The shelter is really useful but Charlie Banks and his team have been beyond praise. They are great."
Resident Mr Paul Hansom, shares the belief that the POD shelter has done nothing but good for the residents' quality of life. He said: "Older people used to be scared to walk to the shops because kids congregated around there. In a gang they would be boisterous and it scared older folk, even though the youngsters were not directing any comments at them. But now they have their own place to go it is really quiet. We have meetings with PC Charlie Banks and his team regularly and where there was once a regular attendance of about 30 people, it is often less than half of that number now because things have changed so much for the better."
PC Banks believes the MUGA will have an even greater impact on the Warwick Estate: "A major cause of anti-social behaviour calls are because children are playing in the wrong places and causing problems for businesses and residents. The MUGA gives them a safe place to play benefiting the whole community, not just the children that use it – I've regularly been asked when it will be ready to use, by children and adults!"
The MUGA from Sutcliffe Play features a unique sound insulation system to keep noise at bay – each strand of mesh is encased in a rubber sealing system, providing unparalleled levels of noise suppression. The MUGA was developed following extensive consultations with local authorities, specifiers and manufacturers. The key objective was to reduce noise impact to allow more opportunities for children to play in built up areas, where noise levels are often a concern for local residents, making it ideal for the Warwick Estate project. It is suitable for a wide variety of sports including football, tennis, netball, basketball and hockey.
PC Banks' campaign to reduce anti-social behaviour will continue. The third phase of the project was originally to install another MUGA but since the project started a group of young people has formed a steering group and decided they would prefer a skate park instead. PC Banks says: "The whole project has been about giving children what they want so I am determined to support their requests all the way. Its means more money so it may take us a little longer but we will get there. I'd like to thank everyone involved in the project so far for their donations and support."
WDH Area Manager Joanne Smith said: "We are passionate about creating confident communities and are delighted to have worked with PC Banks and the other partners to provide the multi-use games area. I'm sure that providing youngsters with a safe place to play will help further reduce anti-social behaviour in the local area, for the benefit of all residents."
Partners include:
Sutcliffe Play, Ardagh Group, Wakefield and District Housing, Wakefield Council, Scottish & Southern Electric, ADM Milling, West Yorkshire Police Community Trust, Circle of Friends Community Group, Plasmor, Knottingley High School, St Andrew's Church, Ferrybridge.