17.02.2021 - Ausgabe: 1/2021
School grounds in the sense of "Play for all"
By architect DIin Vesna Urlicic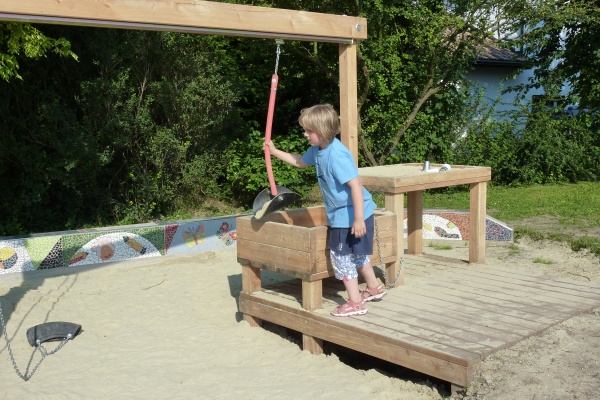 Changing lifestyles and working environments make it that children spend increasingly more time at school. Accordingly, the school building and the relevant open space are not only learning but also important living spaces. Due to the current circumstances, school grounds have become even more important. Never before have they attracted so much attention as since the Covid-19 pandemic, which has further emphasised their importance and the need for them.
School grounds should offer space for both learning and recreation. Learning, recreation, activity, rest - all these aspects require different spatial qualities. In addition, acting out one's needs is a very subjective matter depending on personality, age and gender. So for example, some children need a lot of activity to compensate, while others find relaxation by just backing off. Physical activity is also acted out in different ways. This is partly due to the abovementioned factors, but also to a large extent to each child's own physical abilities. Especially in compulsory education, the differences in physical dexterity become apparent. Classifications according to age are only of limited use. In an open-air school, a 7-year-old with very well-developed motor skills might meet a 10-year-old who is physically clumsy or has limited mobility. In the European standard, the term "play for all" has been agreed upon, because the difference in abilities becomes even more striking when a healthy child meets a disabled child to play together. The removal of physical barriers on the basis of unsuitable designs would literally pave the way for the rapprochement of different user groups. School grounds, in which encounters are possible at eye level and joint play is possible without performance demands, provides the basis for successful inclusion.
While school buildings - as well as public buildings in general - are being upgraded to be barrier-free (in order to meet legal requirements), school grounds have a shadowy existence in this respect. However, accessibility does not end at the school building and should also be more than just lip service in the open space. The awareness that this place is not being designed just for a marginalised group, but in the sense of "play for all", and that accessibility and use should be provided for as broad a group as possible, heterogeneous in their dexterity and level of development, has not yet arrived with many of those responsible, neither with planners. Barrier-free, or rather, barrier-reduced design is considered expensive and thus only feasible in special cases. The money available for the construction of school open spaces is all too often based on the residual budget left over after the completion of the school building. And that is often just enough for a conventional "token design".
Practice shows that holistic considerations and good details, but not necessarily additional resources, are needed to design school grounds that are both needs-based and barrier-free.
Barrier-free versus low-barrier
The claim to design a school open space completely barrier-free is hardly achievable in practice. I am not referring to the costs, but to the differences in the abilities of the individual user groups. Their resulting needs are sometimes contradictory and hardly compatible in the design. Whereas wheelchair users, for example, fail at many floor edges, it is precisely this edge that provides the orientation required by the severely visually impaired. In addition, schools have target groups whose needs change every few years; sometimes it is a wheelchair child, sometimes a child with sensory impairments whose need for play and a feeling of togetherness is to be met by appropriate provision. So it is important to find the lowest common denominator in any design, or at least to design partial areas or individual pieces of equipment according to the so-called "play for all" concept, designated on the basis of European standards. Universal devices, which are mostly easily adaptable, are often preferred over special devices for exclusive user groups.
Sometimes the specifications in the area of barrier-free planning are unrealistic. For example, the requirement that slopes be designed in such a way that they can be handled independently by wheelchair users is often excessive and obstructive. This requirement tends to nip any barrier-free approach in the bud, as it is too high (in terms of price) and thus not feasible. In practice, educators often tell me that their protégés are sometimes not able to climb a slope on their own and have to be accompanied and supported anyway. Despite the high demand for independence, it is often forgotten that this is only one of many aspects. Disabled children, just like non-disabled children, simply want to be part of the action, to be there.
In participatory projects, and this should be the norm for school grounds, the focus is on the barrier-free interpretation of desired elements. For me as a planner, this means providing a kind of "barrier-free light version" where possible, i.e. basic equipment of fundamental movement elements that are fundamentally barrier-free but of high play value. A typical example of this would be the slope slide, which is accessible via a ramp with handholds for pulling oneself up or pushing the wheelchair over it, and which offers a surface for moving. Compared to free-standing slides, they also have the advantage of being less expensive regarding the fall protection material, both in terms of purchase and maintenance. Slope slides as wide slides also allow several children to slide down at the same time, but also an adult, e.g. with a disabled child. Another advantage of slope slides is that they require almost no fall protection, which means that the difficult question of finding suitable fall protection material beyond rigid plastic surfaces can be put aside. In practice, by the way, bark chippings, which are actually considered unsuitable, have proven to be an acceptable alternative in terms of wheelchair accessibility when sufficiently compacted.
Another principle is to provide equipment that allows for external movement so that children who are severely motor impaired are passively moved by the activity of others and are thus part of the whole. A typical example would be a rope net pyramid, preferably with a lying surface. Another advantage of this play equipment is that it offers different levels of difficulty and thus picks up the children according to their specific (motor) skills.
Identity and orientation through individuality
In barrier-free building processes, special importance is attached to orientation. (Visual) features and special characteristics make it easier to find one's way around an area. Particularly in the case of sensory disabilities, an eye-catching design of play objects can be helpful. This benefits the so-called 2 senses principle, a term from barrier-free building processes. This means that a missing sense should be compensated by 2 other, intact senses and can thus contribute to grasping the environment. However, "special" elements can also contribute to the creation of identity. This is especially true if they are developed together with the pupils within the framework of a participatory process. It is thus obvious that individual design elements can help with orientation as well as identification.
Project Teesdorf
I would like to use the Teesdorf project as an example to explain the process.
Here, the needs of around 200 pupils from the primary school and the special education centre had to be taken into account. In the immediate vicinity of the school complex there was an area of around 900 sqm, which to some extent was used by the school as a sports area. In addition, there was a disused tennis court and clubhouse on the area planned for development.
In a first step, the framework conditions such as budget, usage, etc. were clarified with the respective school principals. The school grounds should be used during lessons as well as during the afternoon care time. As some of the pupils are severely disabled, it was important to create as many barrier-free facilities as possible: a meeting place, retreat and activity areas. The concrete qualities and types of exercise elements desired were then clarified in a participatory process together with the pupils. In the course of the democratic process, from the initially wide-ranging nominations the main focal points were worked out with the children. Finally the pupils voted on the importance of the individual points in a voting process. In case a child was unable to articulate himself about what was important to him, the relevant teacher acted as their mouthpiece.
In the process, the basic needs regarding physical activity, recreation and learning were identified. The focus was not on concrete elements but on finding out the activity desired: "What would you like to do there? " came before "What would you like to have there?" The latter would rather lead to a reproduction of seen playground equipment and narrow down the possibilities of design.
In the case of Teesdorf, for example, the thematic focus of climbing on a ship emerged. As a result, a large ship's bow was created with different play levels and types of accesses, offering enough space for many children playing there together at the same time. Different levels of difficulty and descents cater for different personal skill levels. Different ascents and, above all, descents are designed to ensure that it is possible to leave the unit without being "boxed in" even when there is a large crowd. The element is located on the main path, along which other play elements are strung. In order to offer a play sequence, this path leads on one side to a sloping ramp with a wide slope slide. The ramp has openings that allow children to crawl up or pull themselves up. It can also be used with a wheelchair and at the end of the ramp there is a possibility to change to the wide slide, which was also at the top of the wish list. Bouncing was another important activity that emerged from the participatory process. Here, it was obvious to provide a floor trampoline that is accessible without thresholds and offers enough space for a wheelchair.
The main path opens up into a large area with a seating arena on the other side. It was important to the educators to provide a meeting place where most of the pupils could be at the same time. As a counterpoint to the large open area, a teepee and an adjacent shrub hideout were provided to fulfil the need for a retreat.
The pupils should also be involved in the implementation. After assembling the devices, a planting action was carried out with the children. Nibbling shrubs, scented shrubs and the like underline the 2 senses principle. In addition, for the pupils, the joint planting of the area is an important building block in the identification with THEIR school grounds.
Personal details: Architect, focus on play space, play furniture, barrier-free design, numerous design concepts for playgrounds and school grounds as participatory projects in the area of primary school, new secondary school, general special school. Publications on the topics of playground safety/school grounds, barrier-free design. www.vesna-urlicic.at