16.06.2020 - Ausgabe: 3/2020
Dresden Zoo - Climbing, frolicking, swinging and sliding
By Katrin Kretschmer (Zoo Dresden, German Ltd. Company)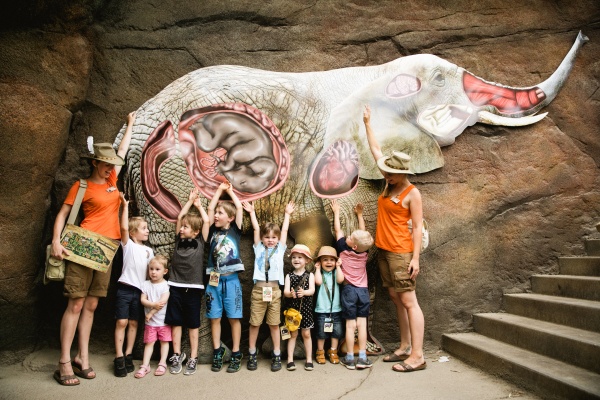 It is only a few minutes away from the baroque sights of the Elbe metropolis where both young and old animal lovers can observe more than 1,500 animals and over 250 different species in the modern, naturally designed facilities of Dresden Zoo.
Among the absolute highlights are the koalas which are housed - together with monkeys, two-fingered sloths, armadillos, various insects and a sunda gavial crocodile of about four metres called "De Gaulle" – in the so-called Prof. Brandes-Haus.
Families with children love this zoo because - although located in the midst of the big city - they find rest and recreation in the animal enclosures. Large windows and hidden observation posts provide small zoo visitors with exciting insights into the worlds of giraffes, meerkats and penguins. In addition, accessible facilities, child-friendly signs and the colourful range of playgrounds make the zoo a popular destination, especially for our younger guests.
In recent years Dresden Zoo has invested approximately 250,000 euros in the construction and maintenance of the actually more than six adventure playgrounds. According to the natural behaviour of its inhabitants, the little zoo visitors can let off steam while they are jumping, climbing and swinging. Thematically, the play offers are focused on the character of the relevant zoo location. It is between the terrarium and the lion savannah, where a large water playground awaits the little zoo fans. Right next to the giraffe enclosure, the lookout of a spy tree offers interesting views to the giraffes and zebras. And at the Prof. Brandes-Haus the young visitors can both climb like monkeys or hang out like sloths do.
The design of each of the unique playgrounds was implemented by the German company Künstlerische Holzgestaltung Bergmann. Currently minor repairs are carried out on the water playground. However, the construction of another playground at the Penguin Café will probably be implemented next year.
Dresden Zoo scores particularly with its child-friendly overall concept, which - apart from the playgrounds - includes free puppet shows and low entrance fees for children.
These are the different play areas of Dresden Zoo:
Entrance area: Globe (big basket swing)
Gastronomy area "Africa Lodge": Climbing play equipment
Lion Savannah / Terrarium: Water playground
Giraffe and zebra facility: Spy tower with lookout holes / possibilities for climbing and swinging inside the tower
Gastronomy area "Kangaroo Stop": Sand playground / wooden house with slide / digger / bumper cars (cash deposit)
Prof. Brandes-Haus: Large area with climbing and hand-over-hand elements
Meerkats: Large climbing scaffold / sandbox
Underground zoo: Slide as playful entrance solution for children